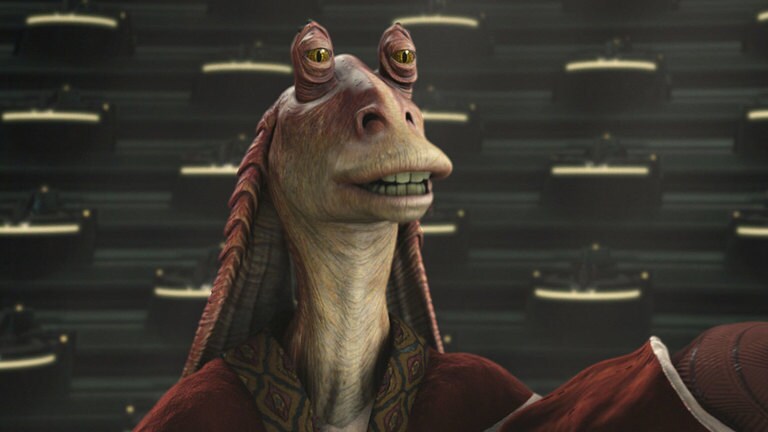 Jar Jar Binks is door veel fans een gehaat personage, hoewel niet iedereen het daar mee eens is natuurlijk. Toch hebben de filmmakers van de 'nieuwe generatie' er tot nu toe nog de handen van afgehouden, en we denken dat dat ook wel zo zal blijven. Niemand wilt het risico lopen dat zijn of haar film wordt bekritiseerd door dat ene personage.
Toch heeft auteur Chuck Wendig, die binnenkort het boek Star Wars Aftermath: Empire's End in de winkels brengt, zich er niet helemaal voor verstopt. Wendig geeft namelijk aan het einde van zijn boek een klein kijkje in wat er nou eigenlijk met de Gungan is gebeurd sinds The Empire de macht over nam.
Uit het boek bleek dat Jar Jar na Return of the Jedi zijn leven door bracht op straat als een soort clown. Cinema Blend schreef het volgende over de specifieke scene in het boek:
There's a scene involving a refugee boy named Mapo on Naboo. While exploring the streets, he comes across a Gungan clown who is performing for children near a fountain. While the young'uns are entertained by his antics, the adults take care to avoid him. In case you need further proof this is Jar Jar, the Gungan introduces himself as such to Mapo. While Jar Jar is successful in cheering up the boy, he's dealing with his own inner turmoil, telling Mapo he "maken some uh-oh mistakens" and that the people on Naboo think he helped the Empire.
Jar Jar wordt dus verantwoordelijk gehouden voor zijn hulp aan Palpatine met het verkrijgen van Emergency Powers, wat natuurlijk ook zijn schuld was. Cinema Blend maakt een mooie vergelijking tussen het boek en de realiteit. De meeste volwassenen moeten niks van het personage hebben, maar de kinderen vinden hem geweldig.
Hiermee keert Jar Jar voor het eerst terug in een canon verhaal dat zich af speelt na Return of the Jedi.